ICTContact is fully automated B2B telemarketing software that helps to maximize your business productivity. ICTContact service provider edition is for service providers who can provide their own online service for outbound (as well as inbound) telemarketing to prospective clients and businesses across the world. Service provider edition is specifically designed for B2B telemarketing. Where as ICTContact enterprise edition can be used as telemarketing autodialer software for personal as well as for small business and medium businesses. Any enterprise grade telemarketing dialer must provide two key features. 1. Scalability: It must be capable of making large number of simultaneous phone calls 2. Integration: It must provide an application programming interface (API) for system integration ICTContact provides both these key features to become a leading enterprise grade telemarketing software. Below we have discussed how we achieve these two key features in ICTContact.
1. Scalability
ICTContact can be scaled up to blast thousands of simultaneous calls. This is achieved through multiple powerful server computers working closely together to provide scalability and load balancing. Usually a single node can handle 500 simultaneous calls efficiently. Using this distributed approach, there is virtually no limit on scalabilty. One can increase and decrease server nodes to scale up and scale down respectively immediately depending upon ones needs. We have successfully tested ICTContact on 5 server nodes to achieve 2500 simultaneous calls. However, as we said earlier, there is no limit on scalability. If you have more server nodes and powerful internet connection, it can be scaled further.
2. Integration
Another key feature that any enterprise grade telemarketing software should have is application programming interface (API). ICTContact provides REST based APIs for third party software integration. ICTContact uses REST based APIs to ensure that automation between our product and third party application is a seamless. Customers can make the most of third party applications without compromising the quality of service ICTContact provides. Following are list of features of ICTContact as automated telemarketing software.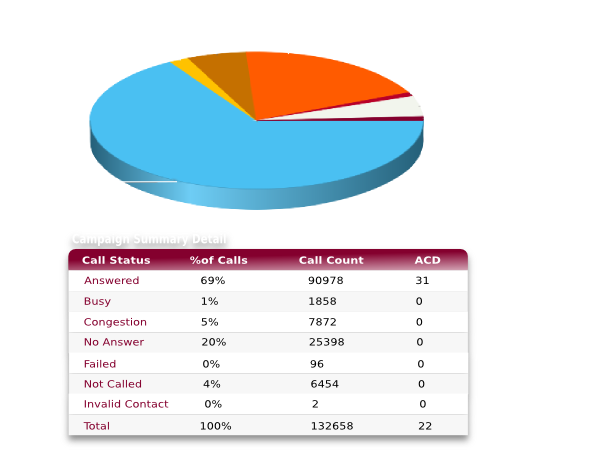 Automated Telemarketing Features
Multiple campaign support Multi-tenant support Fax, SMS, Email and Voice broadcasting Phone Surveys and Polls Real-time reports, graphs and charts Interactive/Demand dialing at the press of one button Import list of contact numbers to dial into a campaign Manage DNC (Do Not Call) lists Answering machine detection (AMD) support Play a pre-recorded message to voice mail Record the conversation No hardware requirement Fast and accurate Increase productivity Many more features
Related Content:
WebRTC Configuration of ICTContact
WebPhone support for Press 1 / Interactive campaign
Automated B2B Telemarketing Software For Call Centers