Inbound / Outbound Call Center Support
ICTContact autodialer includes all the basic call center functionalities. A call center is a physical place or office used for receiving or making a large volume of requests via telephone. This Autodialer software fulfill both inbound and outbound call center functionality very well also it can be integrated even with an external call center.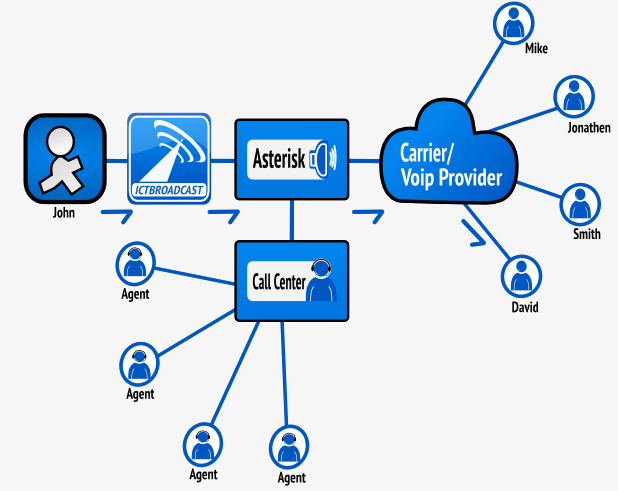 Auto Dialer ICTContact gives you complete options of a call center
ICTContact support both Inbound and Outbound call center functionality :
Inbound Call Center 
ICTContact does support custom IVR that user can easily create with the help of an advance drag and drop IVR Designer tool to receive incoming calls on published DID numbers and play custom IVR also these inbound calls can further be forwarded to queues / live agents for further supports
Outbound Call Center
ICTContact does support verity of outbound campaigns like press 1 campaigns, survey campaign , appointment reminder campaign , Custom campaign , Subscription campaign, Agent campaign with option to forward calls of potentials customers to queues / live agents for further support.
Following is list of features that ICTContact call center module supports
ICTContact offers integrated web phone for agents. Not only can it receive forwarded calls, but also enables agents to perform following actions.
Load contact details from CRM as popup / CRM Load campaign Dialogues / script for personalized communications Call Transfer Set agent status Available / Unavailabl
Admin can create Agents in ICTContact. These agents can handles incoming or outgoing customer calls
Queues for Inbound Calling can be configured
A User can create 8 types of different Campaigns
Extension
Admin can create Extensions and configure Trunks
Speech Recognition
This feature can be enabled in campaigns
ACD
System provides you with an ACD – Automatic Call Distributor. ACD can route calls to Agents or queues based on pre established criteria
CRM
ICTContact provides CRM – Customer Relationship Management. CRM enables call center agents to access information and knowledge in real-time to deliver the correct information to customers during telephone and online support calls.
CDR
Call Detail Record in system provides the detail information of a telephone call
IVR
Interactive Voice Response feature in ICTContact is an automated telephony system that interacts with callers, gathers information and routes calls to the appropriate recipients